A Line of Diverse Dolls Ensures Every Little Girl Feels Proud in Her Skin
Ozi Okaro '03 founded Ikuzi Dolls to give her young daughters toys they could identify with.
Ozi Okaro '03 began her career as a computer programmer and systems analyst, but wanted to pursue a more creative role in the retail industry. Okaro applied to Columbia Business School to help her prepare for that transition.
Her plan was a success, and after graduating with her MBA, Okaro joined Victoria's Secret in its online marketing and creative department. Her retail career continued at other companies, such as Avon and Toys "R" Us, before Okaro's focus turned to her family and becoming a stay-at-home mom.
Okaro realized that being self-employed was the path that would give her the most flexibility while also allowing her to work on something she was passionate about. "I have always loved dolls, even as a kid," says Okaro. "I have two daughters, and I found it frustrating trying to find dolls that looked like them in stores. My daughters also have different shades of brown skin, which made it even more challenging."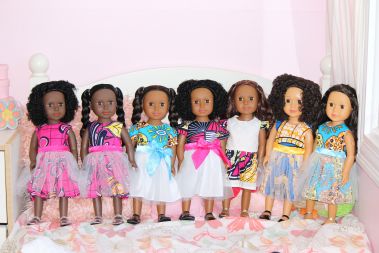 The lack of dolls on the market that accurately represented her daughters was the impetus for Ikuzi Dolls, a line of diverse dolls that showcase and celebrate diverse skin and hair to make sure every little girl has a doll that looks and feels like them. Ikuzi, meaning "to teach" in the Igbo language of Nigeria, represents the brand's commitment to educating the next generation.
"Being able to see yourself in the dolls you role-play with can later affect your self-image," says Okaro. "I knew that I needed to create something that would help my daughters grow to love themselves and be proud of who they are."
Having never designed toys before, Okaro learned the process from scratch – from designing and developing a prototype to choosing a manufacturer. "The whole process took over a year. It was challenging and I made a lot of mistakes," says Okaro.
Designing the dolls was the fun part for Okaro and her two young daughters. "We had so many ideas for hairstyles and skin-tone combinations that we had to pare down."
While Ikuzi Dolls is a passion project of Okaro's inspired by her own daughters, she says the company can bring all little girls confidence and joy. "I believe our dolls play a role in providing young Black girls with dolls that they can relate to and identify with," says Okaro. "This teaches them to be proud of who they are and to love themselves and grow up to be strong women."
She says Ikuzi Dolls are especially important for young girls who are in schools or communities where not all of the children look like them; it's why Okaro also created a dedicated education vertical on the company's site. "As childcare centers buy dolls and toys for children to play with, many understand the importance of providing children with a range of diverse dolls, toys, and books," she says. "Our dolls can be used to start discussions around diversity and race with young children."
Research shows that the toys and books children play with at an early age have the power to change the way they interact with the world as adults. "We need to expose children to a diverse selection of toys so that they can learn to love, accept, and appreciate diversity," Okaro says. "This is important for our future, since we want those coming after us to advocate for a fair society by identifying and fighting the injustices that currently exist."
The COVID-19 pandemic has changed the world of business, while bringing historical inequities and injustice into sharp relief.
Subscribe to Leading Through Change to receive the latest insights from Columbia Business School to help you navigate this unprecedented time.