Business Leadership on the Path to Net Zero: Reasons for Optimism at the 2022 Climate Conference
Climate change presents humanity with a dizzying array of challenges, but green shoots of progress are emerging from the world of business.
News coverage of the climate crisis tends to highlight the negatives: the carbon reduction goals that aren't being achieved, the major climate legislation that hasn't been passed, and the ways experts say we shouldn't eat, consume, or travel.
While integral to the complex conversation about how to mitigate climate change, these headlines can crowd out stories of the climate positives, including the early progress society is making toward decarbonization. And as the 2022 Climate Business & Investment Conference made clear, many of these green shoots of progress are emerging from the world of business.
"I feel encouraged by the number of corporate commitments we've seen in the last 24 months," said Rich Lesser, global chair of the Boston Consulting Group (BCG), in one of the keynotes at the conference, hosted by the Tamer Center for Social Enterprise and Columbia Climate School. At the same time, he highlighted the urgent need to move quickly in continuing to innovate with new climate initiatives and solutions, and to scale up what's working: "If we're honest, we're not on the path we need to be on. And the only way we're going to move faster is if we have many more moves from the private sector combined with much more support from the public sector."
In line with this year's conference theme, "Business Leadership on the Path to Net Zero," Lesser and other emissaries from the private sector spoke about the ways businesses are leading the way in forging that path, the steps others must take to join them, as well as improvements needed.
Encouraging progress by businesses in reducing emissions is crucial to highlight, Lesser said, because it raises the bar for all players within an industry—and for those in other sectors. He offered the example of the auto industry, noting that five years ago, he wouldn't have believed that major automakers would have set aggressive electric vehicle targets by 2022—but they have.
L'Oreal is an example of a company raising the sustainability bar in a very different sector, as Marissa McGowan, L'Oreal North America's chief sustainability officer, demonstrated in a presentation. The world's largest beauty company set a 2030 goal for reducing by half the greenhouse gas emissions created by manufacturing its finished products. As part of that goal, L'Oreal pledged that by 2025, all of its 25 U.S. sites would achieve carbon neutrality by improving energy efficiency and using only renewable energy. The company hit that goal early, in 2021. L'Oreal has also set strict requirements for its transportation fleet, with an aim to reduce by half the emissions linked to the transport of its products.
Conference attendees also heard from Columbia faculty members on research investigating the scope and impact of businesses' climate initiatives. The researchers' findings offered more reason to expect that climate concerns and social responsibility will be increasingly integral to business leaders' decision-making.
In two recent studies of employee responses to corporate social responsibility policies, Vanessa Burbano, associate professor of management at Columbia Business School, found that strong CSR policies and programs boosted employee retention and even proved more motivating than higher wages.
In one study, she examined worker behavior on Upwork, an online platform that connects freelancers and clients for gigs. She observed that workers who were informed about companies' CSR policies were more willing to accept lower wages—and found that this was because they believed such policies indicated how they'd be treated as employees.
In a second study, she observed employee onboarding at a bank in Latin America and found that employees who had been invited to mentor local children as part of the process were less stressed and more likely to stay with the bank than those who were not invited. In other words, workers are likely to continue to be an important stakeholder group incentivizing companies to prioritize CSR.
Research by Shivaram Rajgopal, a professor of accounting and auditing at Columbia Business School, highlighted the role of pressure coming from another key stakeholder group: investors. In research looking specifically at the carbon-reduction pledges of U.S. oil and gas companies, Rajgopal analyzed how major oil and gas companies' climate pledges were shaped, if at all, through ownership by investment firm BlackRock, whose CEO, Larry Fink, has been vocal about the financial risk posed by the climate crisis and those contributing to it. Rajgopal found that, indeed, BlackRock ownership seemed to exert real influence: As BlackRock ownership increased, so did the likelihood of the energy companies making carbon-reduction pledges.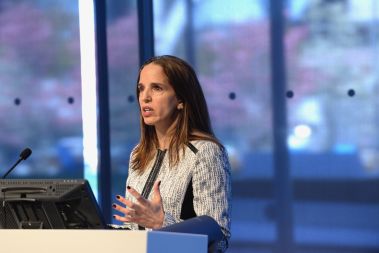 Luisa Palacios, a senior research scholar at Columbia University's Center on Global Energy Policy, noted a similar influence from investors in her research on state-owned oil majors, which, she noted, are responsible for half of the world's oil production. The more access a national oil company has to international finance markets, the more likely it is to be transparent about its environment, social, and governance metrics and to issue ESG reports.
In part because of the growing pressure from employees, investors, and other stakeholders, many panelists argued that companies have little choice but to make material changes toward decarbonization and other types of social and environmental sustainability. Lesser outlined a few of the most important first steps all businesses should be taking:
Make specific climate commitments and turn them into action.
Organize industry coalitions so that many players can work together on clear and consistent labeling to help consumers understand their sustainability choices.
Decarbonize your own operations and then turn your attention to pushing supply chain partners to decarbonize.
Lesser pointed out that for most companies, 85 percent to 90 percent of emissions come from their supply chains—that is, the manufacturers of the cement, steel, batteries, and other components their products use. He cited data from a recent report by BCG and the World Economic Forum that found the costs of decarbonizing supply chain operations to be surprisingly low, increasing costs for end consumers by no more than 4 percent and by much less in most cases across fashion, food, construction, cars, and electronics. Still, Lesser added, the consumers downstream need to be louder in demanding these decarbonization moves.
"The people who control whether decarbonization can happen at the company level don't feel like they can afford it until they get signals from customers that they want it and will pay more for it," he said.
L'Oreal, for example, encourages its supply chain partners to report to CDP, a nonprofit that helps investors, companies, and others disclose their environmental impacts. McGowan said that at present, almost three-quarters of the company's suppliers report to CDP. L'Oreal has pledged that by 2030, all of its supply chain partners will reduce their direct emissions by half.
It has also started an EcoBeautyScore Consortium in an effort to focus the beauty industry around consistent product labeling on sustainability, providing an example of how one corporation can drive change across an entire sector. McGowan says the company hopes the EcoBeautyScore becomes the industry-wide standard by 2023.
At one point, moderator Mark Gallogly '86, cofounder of Three Cairns Group, posed a question to Lesser: Will the U.S. private sector voluntarily take these major steps to assess and mitigate their climate impact? After all, they do have costs attached.
Lesser acknowledged the importance of public policy in creating frameworks—like a cost on carbon—to spur the private sector to move more quickly. But he also turned the question on its head, suggesting that businesses soon won't be able to afford the costs of not moving quickly on climate.
"The real risk is to stick to your legacy businesses, ignore the trends, hope you'll be able to resist, and eventually be viewed as falling behind," Lesser said. "Part of what we need to do is help companies realize—whether we're working in them or supporting them as clients, or in the roles we play in society—that this isn't just the right thing to do for society. It's the right thing to create a thriving sustainable business for years to come."
Learn more about the Tamer Center for Social Enterprise.
The COVID-19 pandemic has changed the world of business, while bringing historical inequities and injustice into sharp relief.
Subscribe to Leading Through Change to receive the latest insights from Columbia Business School to help you navigate this unprecedented time.